Tuk- Tuk
Images from Vietnam & Cambodia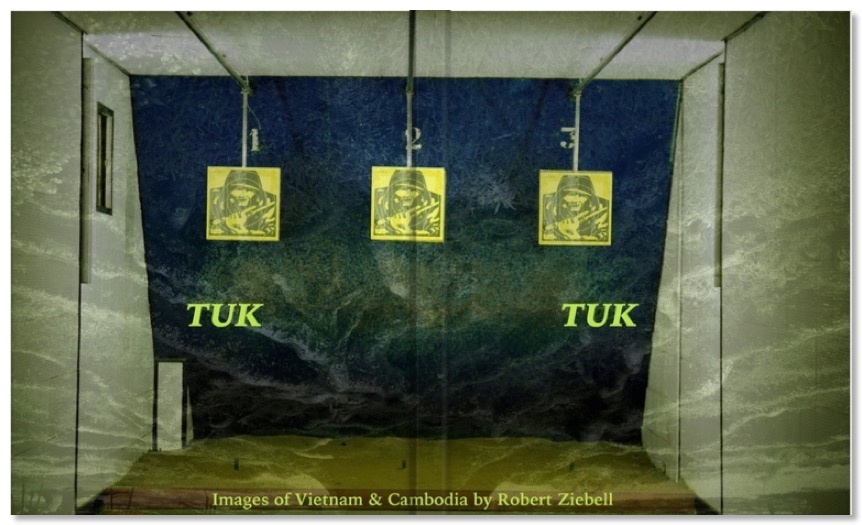 iBook featuring photos and video. Available here:

Tuk Tuk iBook

Limited edition hardback version available. Contact me directly.


Our visit to Vietnam and Cambodia squeezed a lifetime into a month. Rural, urban, and even underground experiences were mashed together. There was order, and there was chaos. A romantic Indochine past against the undertone of a war we had experienced through television in the 1960's and 70's. All the bombs that were dropped made no sense, and the landscape ignored what they had done. Scooters never stopped and had no boundaries. Commerce and energy were in the air always. We never once were we treated poorly by anyone. Ignored by some, maybe. Amazed for being Americans by others.

These are a few images and videos that helped me make sense of what we experienced.



Robert Ziebell

is an artist creating visual languages with collage, video and various lens based media. Working from an artist's perspective for over 30 years, Ziebell has been shown and supported by the Museum of Fine Arts, Houston, the Dallas Museum of Art, the Contemporary Art Museum, Houston, The Film Center at the Art Institute in Chicago, the Wexner Center in Columbus, Ohio, the The Andy Warhol Foundation, Austin Film Society's Independent Feature Fund, and the Athens, Ohio, Ann Arbor, Michigan, and Florence, Italy Film Festivals. He has been featured in various arts publications including Art-In-America, Art Lies, Grand Street magazine, and Adbuster's in Canada.

Ziebell splits his time between two distinct locations in the United States: Houston & San Antonio in Texas, and the Keweenaw Peninsula in Michigan's Upper Peninsula. In the "U.P." he and Liz Ward run an alternative contemporary museum space in a historic general store.