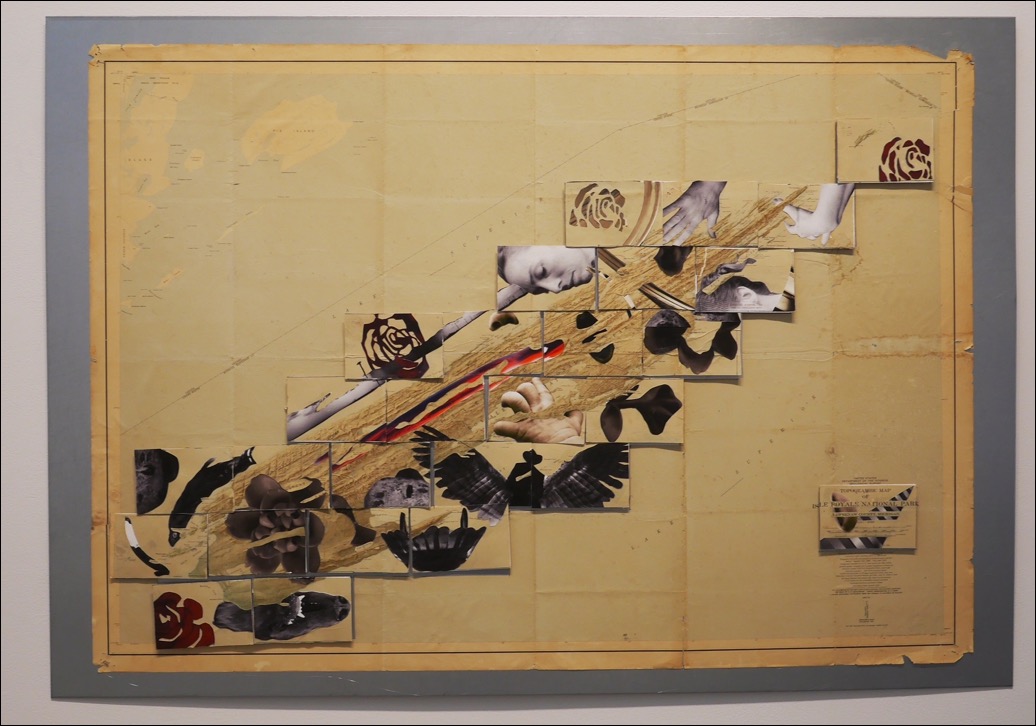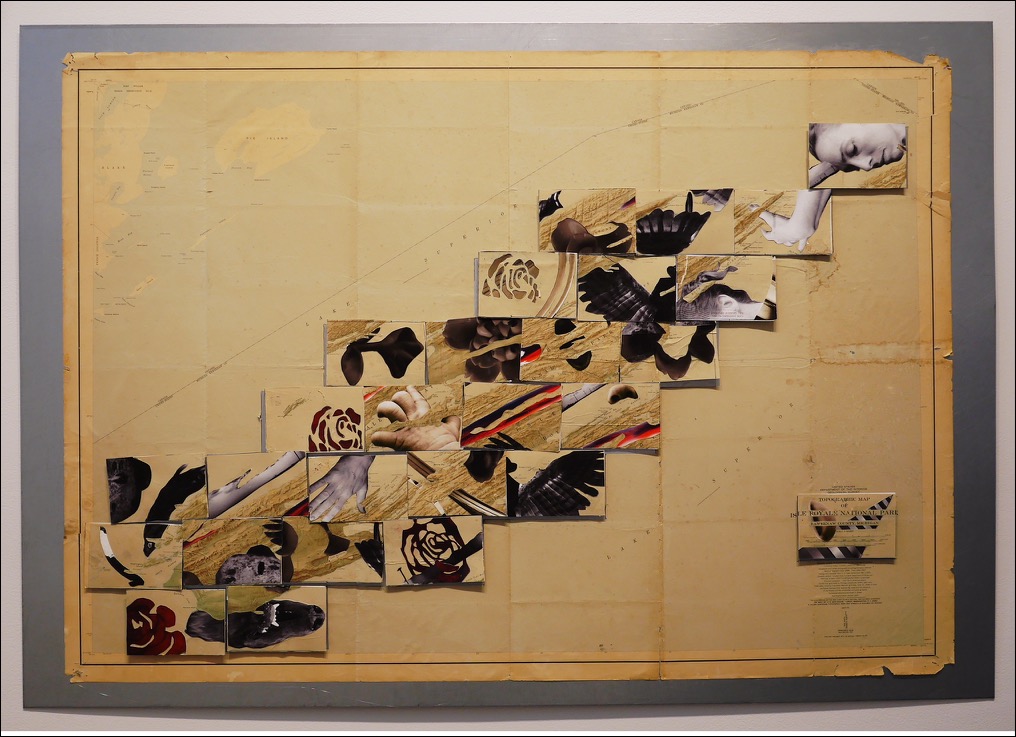 "I Wish You Were Here" (original and rearranged versions) 2018
Postcard Collage
(Rino Pizzi source images)
12 x 12 project

Nominally governed by Keweenaw County, Michigan, Isle Royale National Park is an island wilderness in the northwest corner of Lake Superior. The Park is only accessible to visitors in the early summer through mid-fall by boat or seaplane. It hosts the same number of people for the entire year as Yellowstone National Park receives in a day. There are no roads on Isle Royale, only trails.

Isle Royale is inhabited by isolated populations of moose and wolves that keep themselves in check in a unique single predator, single prey relationship, somewhat similar to this 12 x 12 collage project challenge conceived by Rino Pizzi. Like a road trip or, in this case, a hiking journey, I assigned each of Rino's 12 x 12 disjointed images to a location on a map of Isle Royale. The map features an eclectic array of historic place names from European explorers, mining ventures, and earlier Indian camps that include "Five Finger Bay," "Minong Ridge," and "West Lump Reef" among others. The colorful history, folklore, and legends are part of the topography and history of the island. The process of overlaying Rino's images onto this topography made me see the images as maps and references to geographic shapes.

My wife and I have an old general store in Michigan that functions as our studio and a "Social Club" museum. It is located on the Keweenaw Peninsula, which is the geological flip side of Isle Royale across the Lake Superior basin. On a clear day we can see Isle Royale from our deck. For over 30 years I have sent friends collage postcards from the Keweenaw. Not unlike the 12 x 12 project, every summer I have a loose theme I work around while assembling the cards from the scraps and mementos of everyday life. I scan the finished postcards before they are mailed and then reassemble then as books (or, in the early days of Facebook, as posts). The books are then re-collaged with more found material so that they too become one-of-a-kind items.

Each one of the 27 images in "I Wish You Were Here" was sent by mail to the gallery as a postcard and then reassembled by Rino for this exhibition, thereby completing this collaboration, and returning the prey to the predator.